Roasted chicken and vegetables
1 acorn squash, halved lengthwise, seeded, and sliced 1/2 inch thick

4 slices of swish cheese

Handful of spinach


1 pound of mushrooms, trimmed and halved

1 large red onion, cut into 1/2 inch wedges

8 garlic cloves, crushed

1 tablespoon olive oil

Coarse salt and fresh ground pepper

4 bone in chicken breast halves (10 ounces each)

1 tablespoon dried rosemary, crumbled
Pre-heat oven to 375º. Combine all vegetables in a roasting pan, season with salt and pepper, and toss to coat. Roast until the squash is beginning to soften and all vegetables are heated through, about 15 minutes.

Meanwhile, lift up the skin from chicken breasts; rub the flesh with the rosemary and some salt and pepper. Stuff with cheese and vegetables as desired. (Spinach and bell pepper in this recipe). Replace the skin; season the chicken all over with more salt and rosemary.

Remove the roasting pan from the over, and place the vegetables. Return to the oven; continue roasting until the chicken is cooked and the vegetables are tender, about 35 minutes.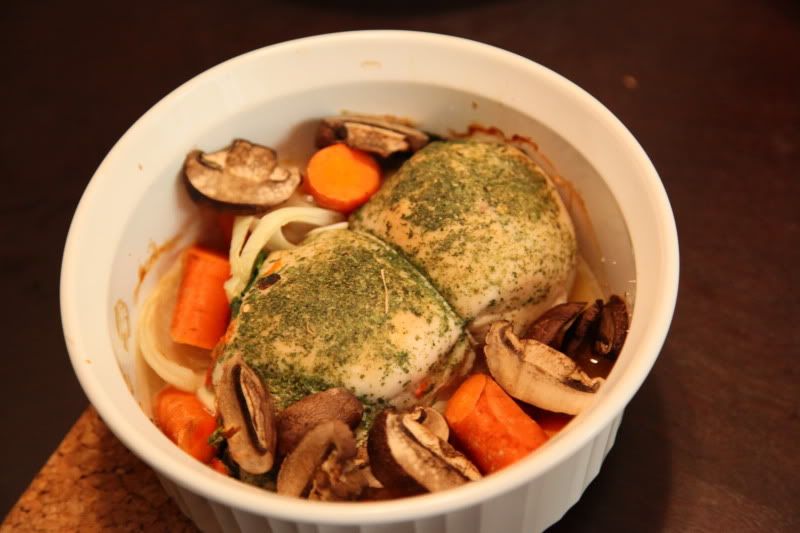 There is nothing better than a 100% natural smoothie. I use the
Blendtec
blender. It makes juices, smoothies, dressings, ice cream- that's just to name a few! Best kitchen gadget ever.

5 large sized strawberries

1 banana

Handful of blueberries

1/3 glass of apple juice concentrate

1/3 glass of soymilk

3 large ice cubes