Let's change the mood up around here...
I talk to myself when I shop for shoes...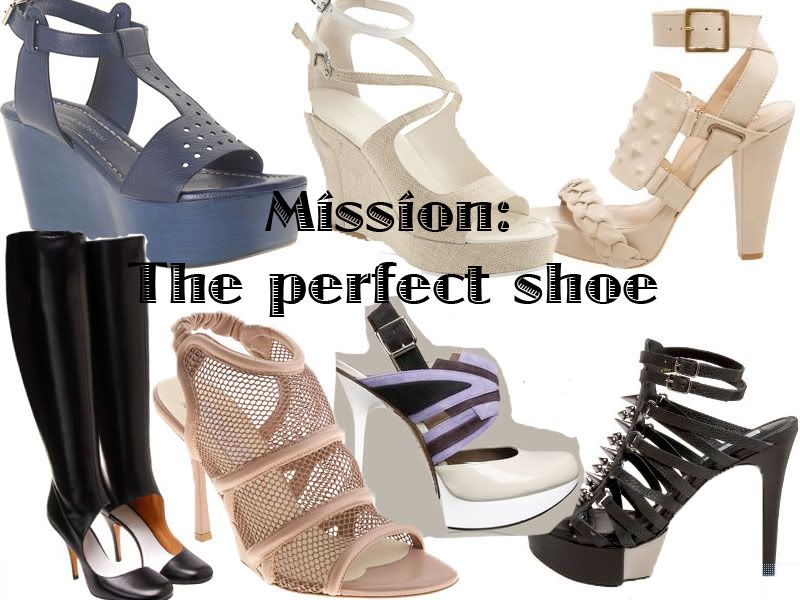 Collage made by me from pictures on Endless, Barneys, Marni, & Shopbop
A heck of a lot different post from my last one. Perhaps you'll get to see the all facets of my personality? Anyway...life isn't at all depressing right now. 
Let's talk about shoes.
So, let me just say that the sales are insane this year. I went shoe browsing a few days ago and found an array of mouth watering shoes. What's even better? They're on sale.
I was looking at my shoe closet a few days ago and decided my next purchase should be something fresh (i.e. white...) because I don't have ANY white shoes at the moment. Sales associate in tow, I grabbed quite a few pairs that I wanted to try on..and decide later.
Contender #1
Costume National Sandals
(AKA Grannie's shoes)
I tried on the white ones & while they were just the color I was in the market for...I just couldn't stop laughing at my own reflection with the shoes on. They're completely different than anything I already own. I tried envisioning what I'd wear with them but the mere thought of me tripping over the huge platform overshadowed my precursory thoughts. You may be surprised..but I think these shoes are so hard to walk with because of the big platform that takes over the entire sole and not just the front of the shoe.
Conternder #2
Marni Beige Pumps
First thought was...
Jack just asked if I own any flats just a few days ago
. My answer?
Yes- a pair or 2
.
Shouldn't I be looking for white flat shoes?
Um...no. These fit me beautifully and elongate my sometimes stubby/overmuscular legs (darn you soccer years...) AND they have some white. A+ is your grade.
Candiate #3
Margiela Cutout Boots
Ok ok...so they're not white. I cheated. But I had to try them on for fun and they only had one pair left in my size. Perfect. Wow I didn't have to fight my calves to put these on. They were perfect. The cutout is great, too. I'll give you an A and set you aside...
#4
Jil Sander Wedges
Hmm..
why did I pick these again..?
Oh yeah, they're white. Nothing about them screams try me on
! Scratch you out.
#5
Mesh Stella McCartney's
Once again, not white. Oooh
very
comfortable. Now I know what Judy's been talking about. I love them but like the Marni's more.
Shoes that didn't make it to the collage... 
#6
Givenchy Thighhigh cowboy boots
Bow chika bow bow.....These shoes are THE perfect cowboy boots ever. Better than the Chloe Susans. *GASP* I said it...
It's sooo hot out. No way I can wear them these this Summer. Hmm why is it that they're a SS09 shoe?! Aghhk they're black! But so so perfect.
Decisions decisions...
While I love love LOVE the Margiela's, I just had to say no. I have so many black shoes already. Oh like that would have stopped me. But really, I want something fresh in my closet.
OMG wait a minute...they're PATENT
. Oh whyyyyy....I've gotta say no to you now...
Sorry Costume National...it wasn't meant to be.
Jil Sander...buh bye...
Stella: I've always been a fan of your shoes. The epic wedges I got from you last season are one of my favorite. If only the heel was a bit chunkier...
Marni- I love you!
Givenchy- You'll be in my heart *skip skip skip skip*
I had to ask the SA to set them aside for me so I could sleep on it and call him back the following day...
Doodles for now, I gotta go pick up my Thai food. I got sticky rice for dessert- can't wait to eat it (all)!