The top part of this post was written for
Chictopia
:)
Tibi's show took place at the tents. It was as crowded as you can ever imagine, but overall was a great show to attend.
While the buzz on the blogsphere about Fashion Week has been an abundance of negative reviews in general....
"I want to be amazed."
"That's
sooo
last year."
"X designer did what X designer did 10 years ago, and it wasn't even done any better."
"Boring!!"
"Please.
Inspire me
."
So on, and so forth...
I'm kind of tired of hearing it. The closest I've been to any designer are the Mulleavy sisters (this season) and Erin Wasson (last season).
And yes, Erin Wasson is more of a designer than I will ever be, so I

will

call her a designer.
I was happy enough to be able to attend their shows, clearly, I did not speak to them about their designs and
what
inspired them and what they thought of their final product. Maybe next time.
I cannot imagine all the pressure any designer must feel before fashion week. The reviews that follow possibly make them very happy...or depressed. No one likes to be criticized. Especially when they do not know what one goes through on a daily basis. I am glad I'm not in that position or my tumor would probably explode and kill me. There is no doubt in my mind that the pay off is very rewarding.

Perhaps all this 'lack of' inspiration and creativity is a sign that it's time for us, the consumers, to re-invent the way we dress...and inspire the designers. Or...maybe it's time for us to start making our own designs if we don't like anything that's out there.

Tibi's show was very upbeat. Fun and colorful.
Anyone that was present and did not want to dance to the music might have been having a bad day.
Clearly, trousers and blazers for women are owed to the late Coco Chanel. None of the clothing in the above picture is anything new. No. They are classic pieces that anyone can easily replicate with prices that each can afford.
What I loved most about this collection were the colorful pieces and how they were mixed and matched in each look. I also like the fact that each of the pieces shown above are very versatile. I noticed that a few designers had the one shoulder jumper in their collection this year. Depending on the fabric, you may be able to roll them up a bit or belt it with an insanely beautiful vintage piece and put that favorite cardigan or blazer of yours.
Dinner Date Tonight...
It feels like J & I have hardly spent any time together. We both have had a hectic weekend. It was nice to go out for dinner and spend some time together tonight...though the look on my face says otherwise.
My hair is growing back out and it's getting really hard to maintain. I cannot wait for it to keep growing!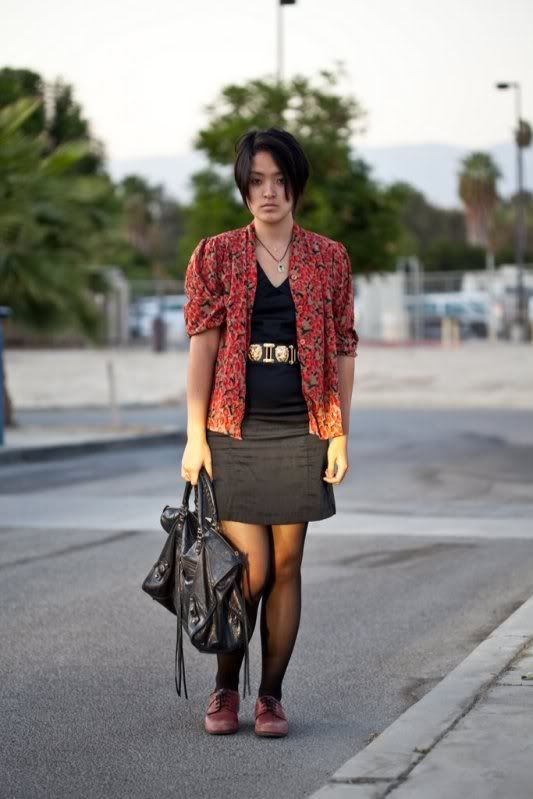 *bugbite from hiking in Hawaii :O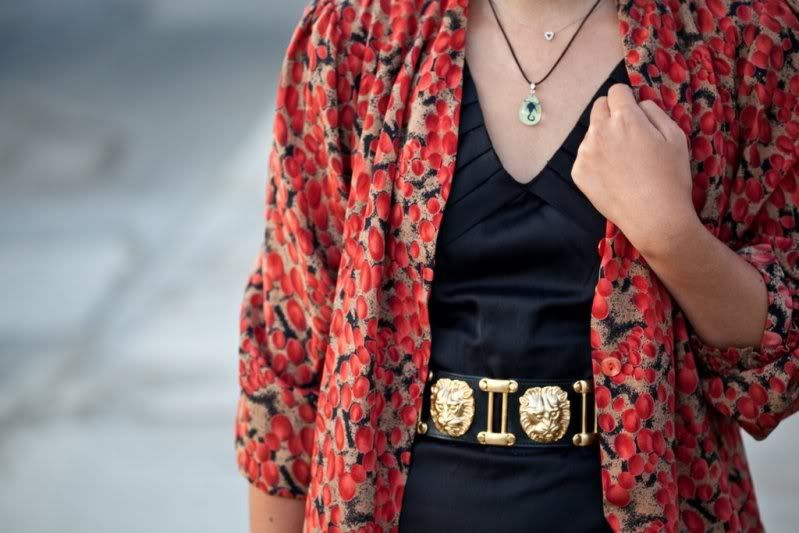 American Apparel Sheer Luxe Pantyhose, MMM oxfords, Weardrobe dress from Modcloth, Vintage belt, and blazer borrowed from FIP shop coming soon, good ol' Balenciaga
Modcloth sent all Weardrobe conference attendees what they've called the "Weardrobe Dress". Our challenge was to style it our way. I actually wanted to wear it differently than how I ended up doing so today, but we were in a rush to get out of the house so I threw this on.
The scorpion necklace is a purchase from a street vendor in Waikiki. It's kind of cheesy since it glows in the dark. Remember when glow in the dark things were so cool? I attacked my ceiling with glow in the dark stars when I was younger....glow in the dark tshirts in your good ol' Kellogg's cereal box were so cool.
The vendor told me the scorpion guards all evil. Who doesn't want to fight all evil spirits?!
I had to do some research on my own and found the following...
Scorpion can be interpreted as meaning defense, nimbleness, a powerful fighter, or self protection.
Since scorpions often live in hot and tough areas, the image of a scorpion shows a person has strength and is able to live through tough moments. [Scorpions help get though] difficult situations, and stay strong. [They] represents power and force, and prove that size does not matter.