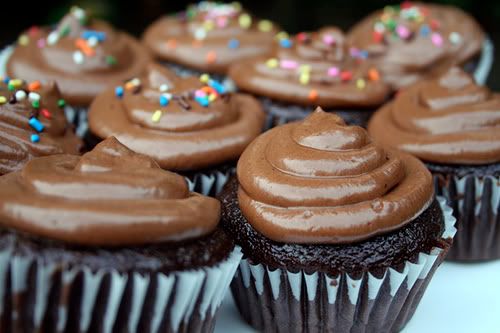 This book was given to me for Christmas and I couldn't be happier! I finally got around making something noteworthy and I thought I'd share the recipe I used.
Cake
1 cup of soymilk
1 tablespoon of apple cider vinegar
3/4 cups of granulated sugar
1/3 cup of canola oil
1 1/2 tablespooon of vanilla extract
1 cup of all-purpose flour
1/3 cup of cocoa powder
3/4 tablespoon of baking soda
1/2 tablespoon of baking powder
1/4 tablespoon of salt
Preheat oven to 350 degrees. Whisk soymilk and vinegar in a bowl and set it aside to allow curdling. Add the sugar, oil, and vanilla extract to the soymilk mixture and beat until product is foamy.

In a separate bowl flour, put cocoa powder, baking soda, baking powder and salt together. Add soymilk as desired to wet ingredients and beat until lumps are gone.

Pour into lined cupcake pans. Bake 18-20 minutes and remove when toothpick inserted in center comes out clean. Transfer to a cooling rack and allow them to cool.
Buttercream
1/4 cup of shortening (I used Crisco)
1/2 stick of vegan margarine
1/2 cup of unsweetened cocoa powder
1 cup of confectioner's sugar (the actual recipe recommended 2 & 1/2 cups)
3 tablesppons of soymilk
1 & 1/2 tablespoon of vanilla
Mix margarine and the shortening. Add the cocoa powder and beat until well combined. Add the powdered sugar… a little at a time, add a splash of soy milk after each addition. Once that's mixed, add the vanilla extract and beat at high speed for about 3 minutes and it should fluff up.