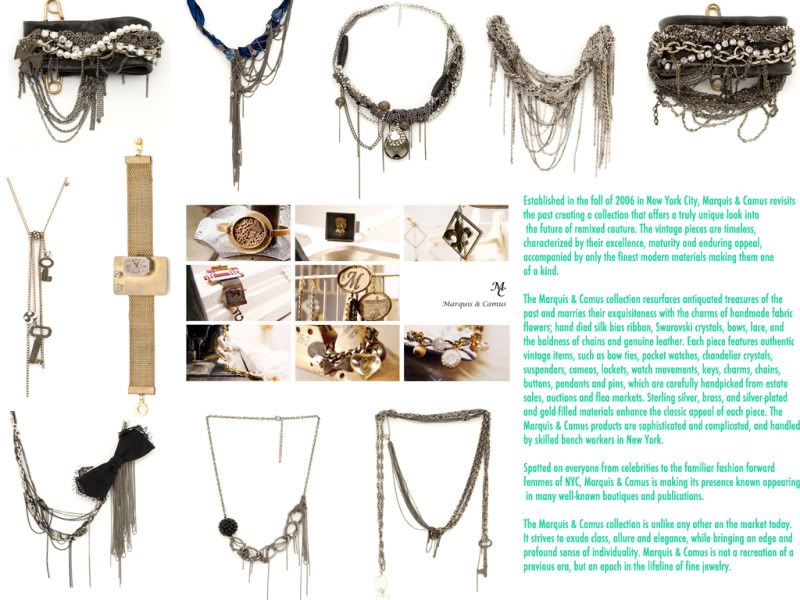 marquiscamus

Don't you just love it when you discover a new line, hidden and wedged between the 3 dubyahs?
I stumbled upon
Marquis & Camus
and was immediately smitten by their beautiful, drapery, and TO-DIE-FOR (IMO) jewelry. My top pick is their
modern rebel bracelet
. There are actually two of them, you can see the other one
here
. Their
vintage mesh watch
is beautiful...and it's ONE OF A KIND! Really, go and take a look at their site. You might go as crazy as I did. There are only a handful of stores that carry the line BUT if items are purchased through the
site
itself, buyer gets a free repair for up to a year free of charge. My favorites are the
red carpet necklace
,
victorian rebel necklace
,
vintage button necklace
, the oh so versatile
vintage key and chandelier crystals chain
that can be worn both as a belt and necklace,
vintage key with swarovski necklace
, the
European silk hand dyed bias ribbon necklace
, and the
mixed vintage and contemporary chain brooch
. Unrelated question...how many times did I type the word NECKLACE?
I was extremely lucky to get in touch with Marquis & Camus' marketing team to offer you lovely readers a $20 off code with ANY purchase! All you have to do is enter the code "FashionIsPoison" at checkout and you'll save $20. Should you have any problems at checkout, just send me a shout and I'll get back to you.
Now you'll have to excuse me...I have to go wipe off my chin from drooling over their one of a kind vintage mesh watch and the modern rebel bracelet....(oh so lady-like...)